Payment Card Industry Data Security Standard (PCI DSS)
PCI DSS requirements are set by the PCI Security Standards Council (PCI SSC), founded and enforced by Payment Brand (through your acquiring bank/s). Payment Card Data Security Standard (PCI DSS) is the global data security standard that any business of any size must adhere to in order to accept payment by card and either store, process, and/or transmit cardholder data.
It contains common sense yet rigorous controls that mirror best security practices. PCI DSS applies to the protection of cardholder data' (CD), centred around the Primary Account Number (PAN).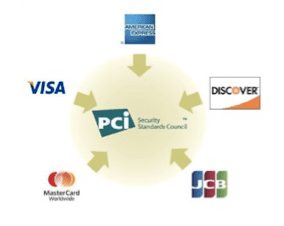 Who should comply and how
The PCI DSS applies to all entities that store, process, and/ or transmit cardholder data. That means both merchants and service providers to merchants (IT, data centre, call centre, storage, cloud providers, etc). It covers technical and operational system components included in, or connected to, the cardholder data handled.
If you accept, store, transmit and / or process payment cards, PCI DSS applies to you
<span<
Reporting requirements differ based on your business (service providers or merchants), the number of cards you process annually, and how you take payments (in-person, phone, mail, fax or e-commerce).
Privasec offers peace-of-mind PCI DSS-as-a-Service to help organisations stay compliant throughout the years, to every version of the PCI DSS.
Our work ethics are geared towards building a strong and long lasting relationship with our customers. We are committed to partnering you and taking a pragmatic approach to address the risks and issues faced by your business in relation to the compliance program. We also work with you to effectively reduce your compliance issues.
Find compliant options to reduce your scope and create a plan to fix your non-compliances.
PCI DSS Remediation
Expert guidance and advice to remediate your non-compliances and keep your costs down.
PCI DSS Penetration Testing and Wireless Scanning
Ad-hoc or managed Penetration Tests and Wireless Scans as required by the PCI DSS.
Qualified assessment of your compliance status and deliverance of your Attestation of Compliance (AOC).
PCI DSS Maintenance
Maintain your compliance throughout the year and avoid the stress of recertification.
PCI-DSS-as-a-Service
Piece-of-mind all-inclusive service to ensure you reach and maintain compliance whilst getting best value for your business.
Don't let PCI DSS slow your business down
We provide tailored and collaborative solutions to meet your business goals as well as your compliance requirements
We assign Qualified Services Assessors (QSAs) who are the right culture fit for your organisation and project
We don't just tick boxes – our professionalism, values and our work set us apart. Our QSAs have gained industry knowledge and efficiency through years of experience
Not sure if this applies to you?
Don't leave it to the last minute. Contact us and find out.